Mario recommends you:
Stockholm and Sigtuna at Christmas Time
Although it's very cold, I would recommend visiting #Stockholm #Sweden around Christmas to have an authentic experience. I packed my trip with #culture, delicious #foodanddrink and walking around these beautiful cities. My tip: drinking hot chocolate helps to keep away the cold!
---
My trip came up from a simple question: which should be the best period of the year to go to visit two cities as Stockholm and Sigtuna? And the answer couldn't be that this one: xmas time.
This story doesn't want to be a list of places where I've been, or at least, not mainly, but more a collection of peculiar sites where to go for eating or sleeping, or just for a visit that I think it's worth to.
Quite simple to organize as trip, if leaving from Milan area; what better than taking a Ryanair fly, a direct one to Skavsta Airport? Once there, it takes almost 80 min to get to Stockholm central bus station using the Flybussarna bus company... Yes quite a long trip but very charming, crossing the forest and watching out the window at a so gorgeous nature!
  a long trip but very charming  
I spent 5 days totally in Stockholm and Sigtuna, tasting in both them the real xmas atmosphere with snow, markets, people doing jogging on the snow at -5°c, drinking Mulled wine (glogg, as Swedish use to name it) in Skansen park. 
But first of all, the choice of the hotel where to stay! I chose on purpose to stay in two different places to experiment two completely different ways of Swedish culture; the first one, AMAZING, an ex prison that has been restored to be transformed in an hostel.
I assure you, the big door at the entrance that was waiting to get open automatically, during the night, at my arrival, with the fog that was surrounding all that providing a real winter atmosphere, was touching me! The bedroom keys than with the black ball to no let you to lose them, where another peculiarity of that place. The bedroom are both with bunk bed and the normal ones, up to you about the experience you want to live. 
However, everything was so clean and well maintained that calling it an Hostel, doesn't credit to it! The second hotel was Reimersholme Hotel, quite close to the previous one, both them easily reachable by metro and on foot from the centre.

  everything was so clean and well maintained  
About the second one what I can say, how Swedish the breakfast was with herring and any kind of salad and so good bread... but if you want you can eat cakes as well. For a tour of the city I suggest you  if you are too much cold. 
You may also like
Rooftop Tour Stockholm in English
Ok, coming back to Skansen park, I attended some singers singing at -8°c, people dressed in an appropriate way (for the season) chatting each other on the square meanwhile anyone else where drinking glogg and coaches pulled by strong horses with tourist on board. 

The best surprise was however to find this café in Skansen park, after walking a while between typical Scandinavian animals in their natural habitat.

Being in Stockholm you cannot miss the
S. Lucia celebration
on December the 13rd in the Royal Cathedral Storkyrkand. And what about the xmas market in the Gamla stan? 
Just for a quick tour on foot among the many stands before have a break in Chokladkoppen on the same Stortorgert square. Another place where to go for a concert (and you could be lucky to find one actually) is the Ericsson Globe Arena. 
Are you hungry of technology? Have a look at Tekniska Museet then... but if you are hungry, really hungry, I suggest you to go for a dinner at Vapiano restaurant and you'll feel like in Italy, it seems to be an Italian chain that started the world conquest from Germany. And finally, before closing with Stockholm, if you want to feel a little what does it means to study at one of the best countries in UE in terms of innovation and internationality, probably you should go for a visit at University with the metro station hosted by it... and take profit of your staying that for a 3D movie at the Cosmonova centre.
  I suggest you to go for a dinner at Vapiano restaurant   
...Now it's time to move on to Sigtuna, just one hour by train from Stockholm. Sigtuna founded by Erik Segerasll the king in 970, is the oldest city of Sweden.
...And because of the Scandinavian cold, you cannot skip a break for a wonderful chocolate! Now it's time to come back and if you have a fly at a time no properly good for leaving Stockholm so early, I suggest to sleep the last night in Railway hotel in Nykoping very close to Skavsta Airport, so comfortable for a quick leave or, even better, directly in the airport area in Connect hotel.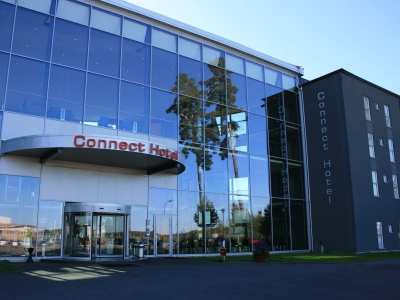 You may also like
Rooftop Tour Stockholm in English