Hannah recommends you:
Madrid has it all
If you want to visit #Spain and want to visit #museums or maybe you are a fan of modern art and of eating and drinking, then #Madrid is the place for you. Madrid is a fantastic setting for all of the above. The city is truly beautiful and will not disappoint you.
---
We always escape on holiday for my birthday, and this year was no different. I recently graduated with an MA in Museum Studies, and visiting the Prado was on my Museum Bucket List – so Madrid was chosen as a birthday present to myself! 
We only had 2 full days in the city, so we didn't push ourselves to see too much – we decided to restrict our activities to wandering, museums, and the fine art of eating and drinking. Madrid was a fantastic setting for all those activities. Amongst some of the delicacies that Madrid has to offer – Calamari (in a sandwich or out), tapas, and cheap beer! I will reveal some of the yummy eating and drinking establishments below. Now, for a very important tip – whilst chatting to some locals on our last night, they recommended we try the Puertos de India strawberry gin – it is made in Sevilla with Andalusian strawberries, and is, quite possibly, the most divine gin I've ever tried – so go and get yourselves some!
We stayed near the Sol metro station, at Hotel Liabeny (Calle de la Salud). It's always hard to fully appreciate where your hotel is in relation to the sites you want to see, until you are in situ and can get a feel for the terrain. The Liabeny was certainly in a good location for what we wanted to see – only a mile in any direction for the Prado, Gran Via, Plaza Mayor, La Latina, and the Royal Palace. What I didn't calculate was the multiple metro trains we would need to take to get to and from the airport. Now, that isn't really an issue for us, and the Madrid Metro is well laid out and easy to use, but it is something to consider if you aren't a fan of the underground.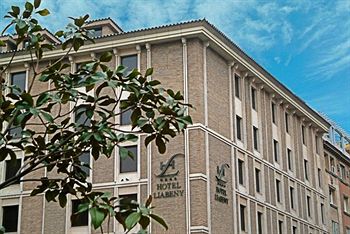 You may also like
The Number 8 line goes from all terminals into Madrid Nuevos Ministerios, and you can connect to many other lines along the way. There is €3 supplement out to the airport, so make sure you either buy a ticket including the airport supplement or buy it separately if you already have a metro ticket. The metro ticket machines are at every station (just before the gates), and are easy to use – they have an english button, and you can simply type the destination you want to go to. You can pay by either card or cash too.
Madrid was in glorious sunshine when we arrived from our early morning flight from Edinburgh. We emerged from the underground at Vodafone Sol (yes, the phone company sponsor a whole station!) – the sun was beating down, and fittingly, making Puerto del Sol (gate of the sun) shine.
Our first mission (after a lazy lunch in the sun), was to wander over to the Prado, via the Congreso de los Diputados and Los Jeronimos Cathedral. The Prado is renowned for it's collection of European art from the 12th-19th Century. I was particularly interested in the Italian Renaissance and Baroque sections – Fra Angelico, Titian, Caravaggio etc. The halls and exhibitions are beautifully laid out and it is easy to navigate. You would need a week to see it all properly. You can't take photos in the Prado, but the guide book is only €19.50, and worth it if you want to relive some of the beautiful works.
In summer, the queues can get ridiculous, so I would recommend buying your tickets in advance and printing them at home before you visit – this allows you to bypass the ticket doors and go straight into the Jeronimo entrance. However, when we visited, on a Friday afternoon in March, there wasn't a queue to be seen anywhere!
On our first evening, we headed south to the little streets between Calle de Carretas and Plaza Santa Ana – it is a maze of little pedestrian alleys and restaurants spilling out onto the street. We had done our research and made a bee-line to Kaixo Taberna (Calle de Barcelona, 12) – and it did not disappoint. We sat out on the street under the outdoor heaters and enjoyed cava sangria (a jug a mere €13.70) and amazingly generous portions of tapas – there was enough food for 4 people. All this and a bottle of red wine came to a very pleasing £45 – wow! Be aware, kitchens don't open until 8pm, so you have to embrace the laid back and later start to everything in Spain – breakfast after 10am, lunch after 1pm, and dinner after 8pm. Bars etc are open earlier, and most serve wee tapas with each drink, so it is possible to graze until dinner very easily, or skip dinner altogether!

The next day, after a late start and a strong coffee, we made our way to the Royal Palace. What a grand old place – shining white and majestic in the spring sunshine. We were there just in time to see the changing of the guard – a modest affair, with terrifically well-behaved horses and their jaunty-attired riders.
We fancied a light lunch, and chose Arzabal (Calle de Santa Isabel, 8), the restaurant attached to the Museo Reina Sofia (contemporary art museum of Madrid). The terrace is separated from the busy road with trees and pergolas, and it is quite a wee oasis. We thought we were going to be charged through the nose for the location (the menu is refined and a teensy bit pretentious), but we were pleasantly surprised – the drinks were cheap and the 1/2 plate of tapas and small cheese board we ordered was more than enough, and only came to €25 all up.
The Reina Sofia Museum is Spain's national centre for 20th Century Art, and home of Picasso's famous Guernica. Unlike the Prado, the Reina Sofia allows you to take photos (so I was able to try out my new 50mm lens) – flash photography is not allowed, and they also ask that you turn the beeps off on your camera so as to not disturb fellow patrons.
Guernica was a stunning sight to behold – you can read more about it's important history here. You are unable to take photos in this section, but seeing the sheer size of this painting is so worth it (provided people aren't all hovering too close and ruining the view)! The docents at the Reina Sofia are a very sombre lot and take it all very seriously. I used to be a docent in a museum, and always tried to engage people where I could, but these guys were very much more like security guards than guides! Despite this, the Reina Sofia is an absolutely top notch museum, with a spectacular collection (especially of Spanish contemporary art) – highly recommended!
We stopped off at Restaurante Sanabria (across the square from the Reina Sofia) for a quick wine and some calamari (which was, incidentally, some of the best we've ever tasted! Sanabria is a bit touristy, but also attracts lots of Spanish students – it is cheap and cheerful though. Our visit was somewhat ruined by a group of women from Manchester, who were drunk on vodka and who did that thing that all self-respecting visitors from other countries loathe – they didn't try to speak Spanish, they just talked louder and louder, expecting that saying 'NO, WE WANTED GARLIC BREAD' in a virtual shout would somehow make it more understood. I HATE this kind of tourist, and it made me visibly cringe with each revolting transaction. I just wanted to walk over to them and yell 'learn some fucking Spanish, you arseholes!'… instead, we asked for our bill (in our best Spanish), tipped well, and snuck away before we might be associated with them in any way!
For our last evening in Madrid, we decided to wander down to La Latina (via Plaza Mayor), as we had been told this was the hippest place for outdoor terraces and great tapas bars. Unfortunately, it turns into a bit of a hen-do-filled hole on a Saturday night (especially Calle Cava Baja) – but the upside to that is the number of drinks deals there are! We stopped at Casa Lucio (a divey place, but that serves fantastic sangria and famous huevos rotos (broken eggs). But gravitated towards Plaza de los Carros, to where the crowd was more local than tourist, and sat outside our new favourite bar, Dona Camila, under the shadow of Iglesia de San Andrés church. We loved this place so much (and the friendly locals that we chatted to), that we stayed here for the rest of the night – and drank much of the Puertos de India gin.

Other places that were recommended to us, but that we didn't make it to are: Txirimiri (Calle del Humilladero, 6) – famous for it's Tortilla; Botin (Calle Cuchilleros, 17) – the oldest restaurant still running in the world; and Cervecería Alemana (Plaza de Santa Ana, 6) – with live music and happy hour.
We made one more stop before heading back to the hotel – to a wee cafe for some churros for dessert! Dipped into a thick hot chocolate and covered in sugar, these long thin donut treats are a great way to end a night out!
Sufficed to say, 2 days was not long enough in this fantastic city! With a perfect mix of culture, food, drink and relaxed approach, we would highly recommend Madrid for a 3-4 day break at a minimum. If you could stay a week, it would allow you to explore the outer areas too, such as the Royal Site of San Lorenzo de El Escorial, which takes a day-trip from Madrid. Don't question it, just go! Oh, and learn a little Spanish before you go, so you don't end up looking like an disrespectful idiot!
Muchos Gracias!