Vicky recommends you:
Destination: Fiji
If you want to find a place that gives you some of the best conditions to relax, you should definitely visit #Fiji. The island is simply such a lovely place, with friendly people and stunning #scenery.
---
We recently returned from a spectacular week in Fiji. Getting there was quite a journey but overall, was not that bad. It is on a similar flight path from LAX like flying to New Zealand but 3 hours closer. Once in LAX, it is a 10 hour direct flight to Nadi, Fiji on Fiji Airways. The plane was comfortable with a TV screen on the back of each headrest. The flight attendants were very welcoming and accommodating. After landing, the first thing I noticed upon exiting the plane is the scent of earth. That is the only way I can think to describe it. It is an open air walkway into the terminal where you can see the mountains in the morning sun which starts your day on an amazing note. Walking into the terminal, you are greeted by a band of Fijian singers playing welcoming songs as you wait in the short customs line. It is literally just the people from your flight in line and a good handful are in the residential line which cuts the wait time down even more.
Rosie Holidays was our transfer company to the resort. My name was on a plaque upon exiting. They quickly confirmed us, gave us beautiful flower leis, bottles of water and loaded our bags into the private car to transfer us to The InterContinental Fiji Golf Resort & Spa where we would stay for five nights.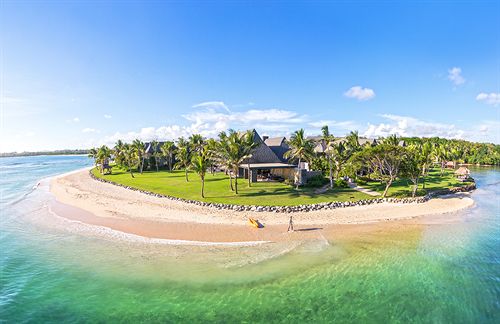 You may also like
Robinson Crusoe Island Culture Tour
I want to stop here and say what a wonderful company Rosie Holidays really is. They have tour desks in all but 2 hotels in Fiji (that have desks) and coordinate transfers & tours around the islands. Not only is the staff friendly but they are also very knowledgeable. Every driver we had told us about the areas we were passing and gave us history lessons on the 45 minute drive to and from the resort.

After arriving at the resort, we left our bags with the bellhop and checked into the open air welcome desk overlooking the ocean. We were upgraded to the beachfront villa but the room wasn't ready so they let us walk around the resort and said they would find us when it was good to go. Of course our first stop was to the bar while we waited. There was a great restaurant and bar by the adult's only infinity pool overlooking the ocean and within ten minutes of being there, a staff member found us and showed us to our room. It was in the first building on the second floor. Keep in mind that there are no elevators so if you have special needs, be sure to ask for a ground floor room. The room size was nice with a bathtub on the balcony overlooking the ocean. They had Pure Fiji bathroom amenities that are all infused with coconut milk.
Although it was their rainy season, the rain really didn't hit much before 2:00 in the afternoon but the mornings were clear and wonderful. On the beach outside the resort, there is a coral reef right off the beach so snorkeling in the mornings was always just after breakfast. There were literally more types of fish than I can count in those waters. I even saw a black and white sea snake. There is a water sports area where you can take out complimentary kayaks and also schedule activities like snorkeling at another reef a bit further off shore or deep sea fishing. On the fishing trip, you can request the chef to prepare your catch for your dinner which was a nice touch. There is also a huge family pool and kids club to keep the little ones fully entertained.
Like Hawaii, the beaches here are public land so there were a few locals trying to sell you excursions and massages on the beach. All of the tours and excursions they offered were also available through the hotel so we just stuck with those. Even though the people were a bit intrusive, they were very friendly and left you alone the rest of the day if you just said no. We mainly set up camp for the day in the beachfront bungalow in front of our room where we would keep our towels. We would go out in the ocean to snorkel, come back and have some drinks while my underwater camera charged and then go back out until the rain started.
There is a PGA Golf Course next to the property but our tee time was at 1:30 PM and the clouds were rolling in so we cancelled. The golf though was not that expensive; $109 Fiji Dollars plus another $50 for club rentals. The US dollar is about twice theirs so we just looked at prices of everything being just over half off.
The food… Amazing!
The food… Amazing! Their main export is vegetables/fruits and sugar cane so everything is super fresh when it comes to dining. Even their beef was free range – as in the cows were grazing along the sides of the roads and in fields all over the country. This also applies to goats, horses and pigs. Everything we had was unbelievably fresh like it was just picked or caught that morning which there was a good possibility that it actually was. My favorite was a tie between the grilled eggplant rollatini and bruschetta piled with fresh tomato. The steak was the most tender piece of meat we ever ate.
Every evening there was a fire lighting ceremony where the men would come out in traditional grass skirts and light the towers around the resort. They also had entertainment like native drumming or dancing to start off the night. In the one bar, there was always happy hour and then live music. On Monday, Wednesday and Fridays, there was kava tasting (a traditional drink) in the bar as well. We did this twice. They set up a woven mat on the floor and two members of the activities team explained what kava was and how it was used in tribal ceremonies. Basically, it is a tree root that is dried and pounded into a powder. They mix it with water and sit in a circle to drink it. It has no alcohol or anything in it but it relaxes you how a drink would and makes your mouth a little numb. It was used if tribes had conflicts, then the chiefs and their people would sit around drinking kava to come up with a peaceful solution. It is also used if a man was asking the hand of a daughter in marriage. Now people sit around at night after work to drink with their friends but the tradition is still there.
I took a tour of the resort one day and got to see the InterContinental Club level where it is a bit more exclusive. Although they have a private bar with free drinks and a private pool overlooking the entire resort complex, it is very far from the beach and activities. They do offer golf carts to transfer you up and down the hill but you still have to wait for them. We were talking to a couple from Australia who was upgraded to that area but they asked to be downgraded back to the regular resort area because of the distance. We also heard of a Chinese family who wanted the most expensive room on the property and were warned that it was not on the beach but said they did not care. Then, after the first night they asked to be moved down to the beach. As first-hand experience, I prefer the beach front locations as well.
On the note of the Chinese family, it was the Chinese New Year and Rosie Holidays chartered a few planes from China to come in on packages for the New Year. It was fun to see so many cultures come together and celebrate as one. As culture goes in Fiji, there are three main groups on the island: Fiji natives, Muslim and Indian. Surprisingly, all of the cultures get along and even invite the others to their cultural celebrations. Too bad the rest of the world can't be like that! The largest market for tourism is Australia and New Zealand because it is only a 3-4 hour flight. Then comes China/Hong Kong and they also get quite a few people from South America. The US is quickly picking up speed on tourism though. There was a post Princess Cruise group who stayed a couple nights and then another large group of Americans on a tour.
There is a small island off to the side of the resort where we took a guided tour. There are caves there where during war time, the local women and children would hide. During low tide, we walked across the sand bar which the water came up to only about knee height at the deepest part and walked about a mile to the caves. It was a hole in the ground but then opened up into a large area. The one surprising thing was that it wasn't cold; it was as warm in there as it was outside. Our guide pointed out all of the vegetation and herbal medicines that grew on the island including a tree that has fruits used to cure cancer. It was starting to thunder on our way back so we cancelled our village tour later that day.
On our last day, we checked out the spa for a couple's massage. It was scheduled on the beach but the weather was going to rain again so they kept us inside. After we changed into our swimsuits, we went in the plunge pool. There was also an ice room where you could rub ice on your skin and then a strange shower would shoot cold water all over you. This was nice in the constant humid temperatures of 97ºF. Then you put on your robe and relaxed in the waiting room with granola bars and herbal tea until it was time for the treatment. The massage was wonderful and very peaceful.
We checked out later that day and was greeted by another guide from Rosie's who talked about Fiji the whole way back. Although it was raining, we were taken into Nadi Town to do some shopping. Make sure you stay at the main stores like Jacks for souvenirs so you can claim the taxes when leaving.
After shopping, we were invited to dinner by Adeline, the group manager from Rosie Holidays, for a farewell dinner at the Japanese Restaurant called Daikoku. This place was great being by the airport and opens at 6:00 PM so if you reserve an early dinner, you can have a good meal before getting on the plane to go home. We then were transferred to the airport where we had another Rosie's guide take us to get our VAT tax back from shopping and escorted us to the business line of Fiji Airways to quickly check our bags without waiting in line. He then walked us over to the TSA gate. The service both to and from the airport was wonderful and I would recommend it to anyone traveling to this destination.
Overall, I would recommend Fiji to anyone who enjoys the beach and warm weather. It is also not overly traveled yet so it still holds the natural beauty of the destination before being full of tourists. It is starting to grow very quickly though. The people of the islands are incredibly friendly and welcoming. I cannot stress enough about how hospitable their culture is and how everyone you meet will go out of their way to make your experience so special. They are a proud culture who loves to share their history and traditions with everyone. By the time we left, I literally felt like the people we met were family.
There is one area which is like Waikiki Beach in terms of a resort area in Port Denarau where the Hilton complex and other major resorts are grouped together in one large area. There are also a few luxury resorts scattered around the main island as well. On outlying islands, there is only one resort per island allowed so those will be somewhat secluded as well. There is only one resort as of now that has overwater bungalows. It is called Likuliku Lagoon Resort and has 10 overwater bungalows. The rest are beachfront. The Intercontinental is the only 5 star resort on the main island though there are others on the outer islands. There is even a 6-Star resort called Laucala Island that is owned by the founder of Red Bull energy drink but I did not get to see that one.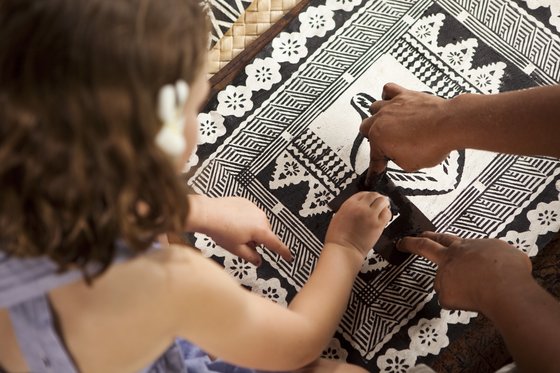 You may also like
Robinson Crusoe Island Culture Tour
Tips:
Bring extra clothes. You will sweat through what you think you will need.
SPF 50 waterproof sport spray – Don't leave home without it (we went through 3 cans in 6 days).
Although they don't expect it, tipping is always nice.
Bring bug spray.
If you plan on being in the water a lot, bring water shoes. We saw a lot of fish that blended into the sand at the bottom of the ocean and some of the areas were rocky and filled with pieces of coral.
No visa needed if US citizen.
English is very widely spoken. One of our guides did speak 6 different languages though.
Try the kava.
Shop in recognized stores like Jacks so you can claim the VAT tax for total purchases over $500.
Look for black pearls. The South Pacific is the only region in the world that has them locally.
Have an amazing time!